Invicta Group has developed, a governance focused on safety, a code of conduct and an environment, around its founding values.
The ISO 9001, ISO 14001 and ISO 45001 certifications obtained by the foundry and enameling, testify the group's commitment to quality and respect of the environment.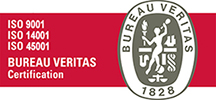 Health and Responsibility
The safety of our employees and visitors is our first priority. Invicta Group is committed to ensuring that the most demanding safety standards are applied with the utmost rigor, at all sites of the group, whether it concerns production or logistics sites.
Indeed, all Invicta Group employees are obliged to act in accordance with the rules, in force in various countries, but also with respect, ethic and transparency, whether these concern internal or external relations.